Beware on Recruitment Scam!
TALENTVIS will not solicit fees from job applicants in any form / condition.
View more
Resume Template: Creative vs ATS-friendly
by Emma • Tue, 19 Jul 2022 11:30AM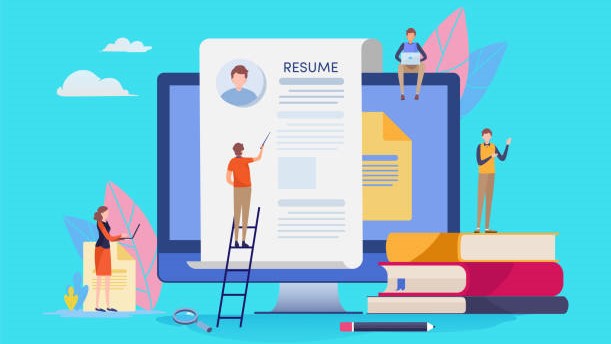 As a job seeker, you definitely want to make the best out of your resume, since it serves as your ultimate weapon in applying for jobs. You may have come across a resume template that is very creative and catchy in looks, but you may also see a resume that looks very formal. These two different resume styles are known as creative resume and Applicant Tracking System (ATS) friendly resume. To discover which resume style suits you better, here is a simple guide of resume template for both creative resume and ATS-friendly resume.
Understanding the Difference
If you search for a resume template online, the possible results are either a resume with catchy graphic design or a full-of-words formal resume. Each resume style serves its own purpose. In general, a creative resume is designed to highlight your professional skills and expertise through interesting visual aspects, such as color, layout, and illustrations. Creative resumes can also include catchy jargon by using "What I'm Great At" to highlight applicants' expertise instead of using the traditional "Skills and Expertise '' section title. Although this is not entirely graphic design-related, this creative aspect is commonly found in a creative resume template.
On the other hand, an ATS-friendly resume leverages applicant tracking system (ATS) software that scans job applications by filtering out skills and certifications written in words to then opt out applications that do not have the needed keywords. This is why you will often find an ATS-friendly resume template is easy-to-read and dismisses unnecessary illustrations. The ATS system categorizes resume information and then analyzes it for specific and relevant keywords to determine if the job application should be forwarded to the recruiter. Simply put, the ATS is more likely to reject the least-qualified individuals than to discover those who are the perfect fit.
When to Use Creative Resume
Creative resume, as it is named, is suitable for jobs that demand creative expertise, such as graphic designer, UI/UX designer, creative illustrator, and videographer. Taste or sense of design is one thing that goes beyond what words can describe; there needs to be solid proof of how you have a great acumen for design. Before recruiters get to see your portfolio, they can get a grasp on whether your design style suits their company just by looking at your resume. Note that this type of resume may not be suitable for jobs that do not really demand creative skills or for well-established companies whose recruiters do not have time to consider graphic design in filtering out candidates. You can still make use of a creative resume template even to apply for technical roles or non-creative industry, if the company you are applying to is rather small or the recruiter seems to have time to review resumes manually.
When to Use ATS-friendly Resume
If you possess professional experience, skills, and expertise that do not necessarily demand creative aspects to be showcased, opt for ATS-friendly resume. Moreover, if you are applying to big companies or ones who have a huge number of applicants, an ATS-friendly resume may be a better choice, compared to a creative resume. According to Jobscan statistics, more than 95 percent of Fortune 500 organizations utilize an ATS to speed the recruiting process and keep up with the hundreds of applications received weekly, but many smaller businesses have also adopted the software.
Read Also: Interview Questions and How to Answer Them
Creative Resume Template
Although there are many online platforms offering a free creative resume template, such as Adobe and Canva, you still need to consider some factors before choosing one to fill out your resume information in. Creative resume is not only about design; it is also about displaying important information about yourself through words. Make a simple 1-3 sentences overview about yourself as a hook at the top of your resume.
In terms of what color to choose, note that color accents provide a subtle approach to add a personal touch. However, use color carefully and avoid going overboard. While keeping it catchy, it is always a good idea to choose readable fonts. Using more than one font, for example, one for headings and one for details, is not really a terrible idea, as long as the two fonts complement each other nicely. You can also match your resume colors and fonts to mimic the company you are applying for, since a creative resume template is usually customizable.
Proofread carefully for spelling and grammatical problems, as with any job search material. Double-check formats for accessibility. Before submitting, always convert the document to PDF, reduce file size if necessary, and make sure that your resume formatting is proper and hyperlinks function. Additionally, check that the document prints nicely in both color and black & white.
ATS-friendly Resume Template
Optimizing your resume with the correct keywords is one of the most important points of an ATS-friendly resume template, since it can verify whether it is compatible with an ATS. If you are not sure which resume keywords to include, start by gathering three to five job descriptions that correspond to the sort of employment you are going for. Use the job posting's expertise or qualifications in your resume if you possess them.
Another golden guideline of an ATS-friendly resume template is to include a professional summary section at the start of the document that combines a chronological "Work History" section that illustrates how you have applied these traits to achieve success for your employers. Because it is easy to read and organizes your job experience history from most current to oldest, a chronological resume is the most suitable with ATS software.
Additionally, bullet points are an excellent way to emphasize accomplishments and qualifications on a resume. Stick to the simplest possibilities, such as a solid circle, open circle, or square, to ensure your bullet points complement rather than detract from your resume.
Whether you go for a creative resume or an ATS-friendly resume, it is wise to know the resume template of both types. It is also safe to have both a creative resume and an ATS-friendly resume ready, so you can always match the type of resume needed to any job you are applying to. Good luck!
Read Also: How a Recruitment Agency Helps in Job Seeking
image source: sunanman | Credit: Getty Images/iStockphoto
SUBSCRIBE TO OUR NEWSLETTER
Keep up with our latest jobs notifications, news, and events. No spam, we promise.