Alert!
Please beware of impersonation scam that disguise as Talentvis Consultants. Please DO NOT provide your personal information or transfer of any money as we do not solicit money from Jobseekers. For further information or enquiries, you can reach out to us at
corporate@talentvis.com
How to Prepare for Your Resignation
by Emma • Mon, 25 Apr 2022 19:04PM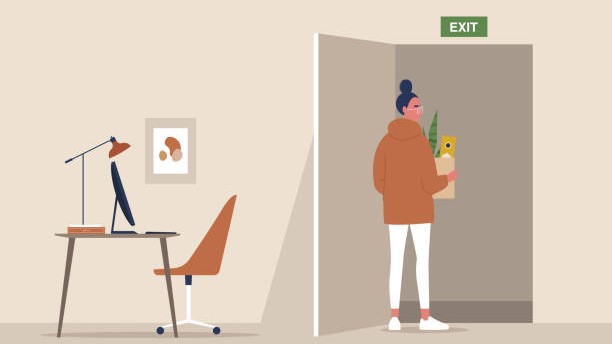 Resigning from a job is a big decision, so ensure you have given it a good thought before submitting one. Whether it is because you feel stuck at your current job or you want better compensation in other companies, resigning is just as complicated as applying for a job. There are several things you need to prepare before sending your HR manager that one-month notice. To make sure that this process goes well for both you and your employer, here is a list of what you can prepare before finally parting ways with your current company.
Think Twice (or Three Times)
The first piece of advice is that you should have a grown-up thought. It means you should be patient enough before sending a resignation letter. People typically quit their jobs for one of two primary reasons: they are dissatisfied with their current jobs or they foresee better opportunities elsewhere. Before resigning, it's a good idea to consider why you're doing that. Changing jobs may be your only option if you wish to pursue a different career field.
However, if you are mostly content with your current job but would want more liberty or more pay, you may be able to accomplish your ambitions without having to move on. For example, if you resign just because the job is not satisfying or you want to start your own business with the hope that your life will get better, maybe resigning is not always the solution. Many successful people start with their hustle jobs before finally starting up their businesses. Think about how you can get an income in case your business does not run well or even fail in the middle of the way. After all, being your own boss also needs lots of effort and sacrifices.
Talk to Your Direct Supervisor
Once you have made up your mind to quit, go to your supervisor. In most cases, it is better to inform your supervisor in person or through a video call that you are leaving before giving a formal written notice. Make sure your supervisor is the first person to know, or else office gossip will spread out. In talking this out to your supervisor, there will most likely be a debate on why you resign and even some propositions offered for you to stay in your job. If you really want to resign, you need to prepare a list of 'possible' offers and how you can counter them nicely.
Nothing irritates an employer more than a resignation letter that simply states, "I'm leaving tomorrow." While you may assume you have nothing to lose by just going away, doing so will cause you to leave on a terrible note. You certainly do not want a bad departure from a company to jeopardize your chances of getting a job or a reference in the future. Also, express your gratitude for the job, explain why it is now time to move on, and specify your last day. If by chance you change your mind after talking to your supervisor, as in you cancel your intention to resign, also let him or her know about it. There is nothing shameful about making up your mind and this is why a one-on-one talk is important before rushing into a written decision.
Read Also: How to Survive Your First Year in Your First Job
Have Plans and Backup Plans
Before submitting a resignation letter, ask yourself: what is my plan for the future? Will I get a job easily with my current qualification? Do I need time to recover from these mundane jobs? What about my financial state after resigning? Ask yourself more questions to open your mind about whether or not it is time to really quit your job. More importantly, you should be sure that you can handle all the consequences and uncertainty that you will face in the future after your resignation.
The next to-do is to create a backup plan, and plan your plan. You will be the luckiest person on the planet if your first plan succeeds on the first attempt. Yet, a plan does not always succeed on the first try. Thus, you can help yourself by calculating whether your savings would be enough for you to survive at least for the next three months – or until you find a new job. Additionally, investing or being a freelancer while waiting for your next opportunity could also be a good plan to ensure you still have an income.
Clear Out Administrative Matters
Get your administrative matters clear, including when you will receive your final salary in your final weeks. Don't expect to get your check on the day of your normal payroll deduction. Depending on company policy, you may get paid on your normal payday, your last day of work, or within a specific time period after you end your employment. When you resign from employment, you may also be eligible for continuous employee benefits. Your employer may be obligated to pay you for unused vacation, sick leave, or paid time off (PTO), but this varies by condition. Leftover time is usually paid out in one single payment. Ask your benefits administrator about what to expect and ensure that it is in accordance with your country's regulations.
Depart on a High Note
After you have done all the to-do lists above, you must have already had a final decision. If your decision is to stay while pursuing your own business, you should work hard and be smart enough to manage your time. But if your decision is to resign, you should say your goodbyes nicely. Tell your supervisors, boss, and colleagues that you will no longer be part of the team. Do not burn the bridges, make sure to always connect with your colleagues although you will no longer stay in the company. No one knows what the future brings, and good relationships with ex-employer and ex-coworkers can be a great help when your business stumbles down.
In the end, finish on a high note in your final days at the company. Just as your first impression is significant when you first join, so is your lingering impression when you leave. If you still have not figured out where to go after you resign, check out some of our best job openings that may be your next career path. Good luck!
Read Also: What to Do After Sending Your Job Application Email
SUBSCRIBE TO OUR NEWSLETTER
Keep up with our latest jobs notifications, news, and events. No spam, we promise.