Alert!
Please beware of impersonation scam that disguise as Talentvis Consultants. Please DO NOT provide your personal information or transfer of any money as we do not solicit money from Jobseekers. For further information or enquiries, you can reach out to us at
corporate@talentvis.com
What to Do After Receiving Your First Offering Letter
by Emma • Tue, 18 Jan 2022 00:56AM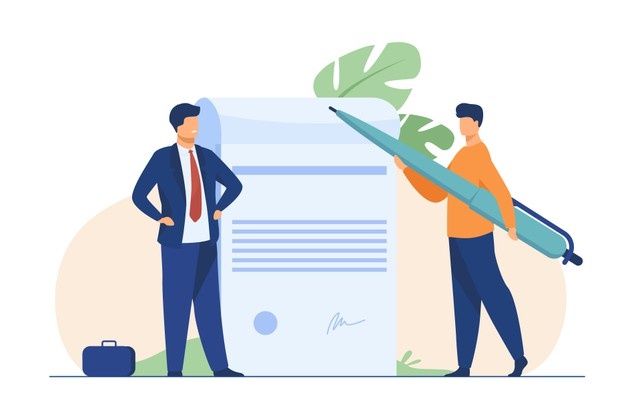 You got an offering letter, finally! Now what?
Either you are a fresh graduate or an employee seeking new opportunities, receiving a job offer after tons of applications is surely exciting. Now that you have successfully passed the interview and secured the role, what are you going to do after this? If you still have no idea on what to do after receiving an offering letter, today's Talentvis insight may be of help!
1 . Say Thanks
You may agree to the offering immediately but it is important to put it well in writing, so express your gratitude to the recruiter carefully. It may appear trivial, but many job applicants ignore this step, which sets the defective tone with the company. Before accepting the offer, write thank-you remarks to those you met during the test and interview stage, expressing your appreciation for the opportunity.
2 . Review the Offer
It is tempting to directly respond with a 'yes' for any kind of offer put on the table, especially when you have been waiting for this moment to arrive. But, it is wise to take your time and take a good look into the specific details of the offer letter. More than just the salary and working schedule, you also need to pay attention to the benefits, non-cash perks, overtime policy, leave policy, and so on.
3 . Inquire about Details
Whether you accept a job offer by email or letter, it is critical to reiterate the final offer terms and communicate eagerness and pleasure for the chance. Usually, the offering letter covers the details of your employment, including when you are expected to start and the amount of salary offered. Kindly ask the recruiter if there is anything more you need to do before you start
Here is an example of a response to an offer letter:
Dear [Name of Recruiter],
Thank you for your offer of [your offered position] at [the name of the company]. I am delighted to formally accept the offer, and I am very much looking forward to joining the team.
As discussed, my starting salary will be [the amount of offered salary] for [employment type and period]. I can confirm that my starting date of employment will be [proposed starting date]. If there is any additional information you need prior to this date, such as the onboarding process, please let me know. I have only one more question: when can I expect to receive a formal employment contract?
Once again, thank you very much for the opportunity, and I look forward to working with you.
Kind regards,
[Your name]
4 . Not Satisfied with the Offered Salary?
Maybe you are reluctant to directly accept the offer letter because the salary does not match your expectation. If this happens, know that you are in the position to bargain for it through a counteroffer. If the offer is less than what you expect after taking into account all of the other company benefits, you may try to bargain for a more appropriate salary.
Start your letter with a message of interest and excitement for the position, followed by your major selling points, such as how you intend to contribute to the company. Following that, reveal your counter offer, which includes a salary that is justified by market research and/or the extra value you intend to bring to the company. Be prepared when the employer responds, be it to refuse or to accept your counteroffer. Whatever the result is, show your appreciation and end the conversation on a good note.
5 . Let Other Recruiters Know
If you are all set with the offer and ready to proceed for signing the contract with the company, let other recruiters that may connect you with other companies about your decision. This is crucial if you have other ongoing recruitment processes going on at the time you receive a job offer. Here's an example of how you can tell the recruiters about it.
Dear [name of the recruiter]
I intended to express my gratitude for considering me for the [job title] through the recruitment process. I had a great time meeting you and learning more about [the name of the company].
With this email, I am formally withdrawing my application and from the overall recruitment process, as I have been given another employment that is more closely aligned with my skill set. I wish the best for everyone at [company name] and hope if the opportunity presents itself, we can collaborate on future projects.
Again, thank you for the opportunity.
Best regards,
[your name]
Landing your first job is an exciting milestone for one's career, so it makes perfect sense if you do not want to mess it up. Keep your excitement balanced with common sense and carefulness. Do not forget to leave everyone on a positive note, both your newly-landed employer and companies that you retract your applications from. Good luck!
Read Also: Job Review on SEO Specialist
image source: freepik
SUBSCRIBE TO OUR NEWSLETTER
Keep up with our latest jobs notifications, news, and events. No spam, we promise.